Attracting Miracles Retreat
with Karena Virginia
March 16th – 23th, 2024
We look so forward to sharing this magical experience with you!
Join Karena at the magnificent Blue Spirit resort and retreat center for a very nurturing and safe Kundalini yoga retreat.  This magical week together was organized by the request of Karena's students who experienced true miracles and healings after attending Blue Spirit's sister retreat center, Omega, in August of 2023. This week together will combine ancestral healing, the law of attraction, meditations based on the law of quantum physics with sacred geometry and yoga for everyone.  There will be modifications for those who are new and there will be the opportunity for deep rest, restoration and self care. Journaling, cozy meals together, quiet reflection and walking the beach with one another will also be encouraged. This retreat offers an incredible life changing experience, and if it resonates with you, please trust that you may be guided to join us by your guardian angels. We see ancestors guiding the way to all of us recovering from the old familiar patterns that have taken place in our families for generations, but are not working for us and/or our families. Sometimes we are the ones called forward to do the healing work so that it trickles over to those we love. This promises to be a safe, gentle and accessible healing experience where you will be held with tremendous support. Therefore, it will be a small group…
So glad you are here. We are looking very forward to creating a sacred container on the miraculous beach of Costa Rica. This will be an intimate retreat with extra special healing- we will be working especially on ancestral healing and energy clearing so we make space to manifest our deepest heart's desires.
This retreat will sell out quickly. We have decided to keep the retreat small, so please reserve as soon as possible. If the retreat is sold out when you see this, please email Sally to be put on the waiting list at sacote62@gmail.com. To secure your spot, please fill out the Registration Form  above and send the required $2000 non-refundable deposit  per person to reserve your space for this retreat. The registration will not be complete until these two steps are done. The final balance will be due by February 14, 2024. You can also pay in full at time of registration.
We are doing this the old- fashioned way! Payments can be made to Karena Virginia LLC in the form of cash, check, or PalPal. If you pay with PayPal, please add 3.2% for the processing fee.
If you pay by check, please email Sally to reserve your spot at sacote62@gmail.com and mail the check made out to Karena Virginia LLC to:
Karena Virginia LLC, C/O Sally Cote, 62 Warren Street, Newburyport, MA 01950
If you decide to pay by PayPal, Please send your payment  by using the address karenavirginia@gmail.com to reserve your spot~ If space is available and you are registering after February 14th 2024, payment in full is required at the time of registration.
If you are having trouble signing up, and need assistance in order to save your spot, please email Sally at sacote62@gmail.com.  If you have questions regarding the retreat itself, please email blue spirit at info@bluespiritcostarica.com or you can review their detailed website for more information at bluespiritcostarica.com
All deposits are non-refundable and non-transferable. All bookings are non-refundable and non-transferable (meaning they cannot be transferred or applied to another retreat). By completing our booking form and paying your deposit you are agreeing to the above terms and conditions.
In the event that you need to cancel because of unexpected circumstances, and as a general practice, we highly recommend that you protect your investment with travel insurance for your trip. To purchase travel insurance you can go to www.travelinsurancereview.net/get-a-quote to compare prices for trip insurance.
Your Investment Includes:
Accommodation: 7 Nights 8 Days accommodation at  the luxurious Blue Spirit Retreat Center
Daily Yoga and Meditation Sessions (optional early morning sunrise practice is available for all too!)
Deluxe Meals: Breakfast, lunch, and dinner served buffet style. All is local, fresh, and wonderfully healing and healthy! Excellent coffee, teas, and fresh juices served with each meal.
Beverage Bar: Unlimited herbal teas, coffee and purified water service
Venue Amenities: Multiple lush gardens, beach access, infinity pool access, yoga equipment, free wifi, and free time to explore Costa Rica as you wish! 
Travel Support: Detailed arrival and departure travel support.
ADDITIONAL COSTS:
Airfare
Airport shuttle – Required: Click HERE to reserve
Optional excursions 
Staff suggested gratuity for the week $80 
OTHER SERVICES AVAILABLE AT BLUE SPIRIT
Massage and Bodywork available at additional cost
Blue Spirit Cafe – open from 8AM-10 PM offering treats and libations – available at additional cost
On-site store
Infinity Pool purified naturally by salt
Beautiful beaches which are part of the Playa Ostional Wildlife Refuge
Public computer for your use, Wifi, telephones and International calling cards (for purchase)
Excursions: Surfing and Paddle Surfing, River Kayaking, Zip Line Tours, Snorkeling, Fishing, Horseback Riding, Boat Tours, and Bird Watching -Available at additional Cost
Sustainability- Blue Spirit is to committed preserving the natural beauty of the area by sustainable green practices. That commitment includes; Solar powered water, reclaimed water for the gardens, eco-friendly air conditioning, natural ventilation, recycling & composting, and earth friendly operational practices.
We look so forward to sharing this magical experience with you!
*Airfare is NOT included.
*Room pricing is per person.
*Daily retreat schedule will be handed out upon arrival.
Visit the Blue Spirit Website to see even more photos.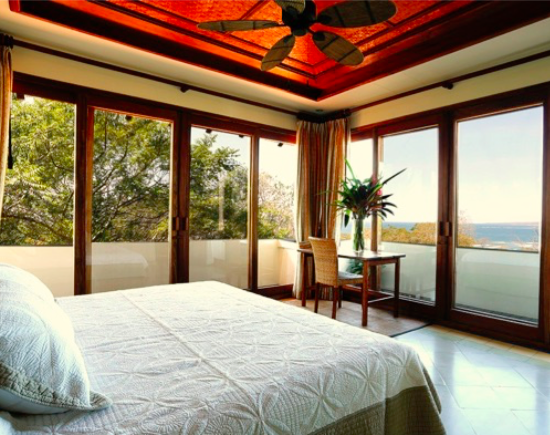 Superior Room with A/C. These beautiful double rooms have step-out balconies and extraordinary ocean views. These rooms are elegantly furnished to provide our most luxurious space for couples or singles. Each room has a king-size bed, a private bathroom with solar hot water and air-conditioning.
$3850 per person single occupancy / $2995 per person double occupancy 
Ocean View Room with A/C.  These double rooms have step-out balconies and beautiful ocean views. The rooms are tastefully furnished and provide the perfect space for 2 people. Each room has a king-size bed or two twins, with a private bathroom with solar hot water and air-conditioning.
$3950 per person single occupancy / $3250 per person double occupancy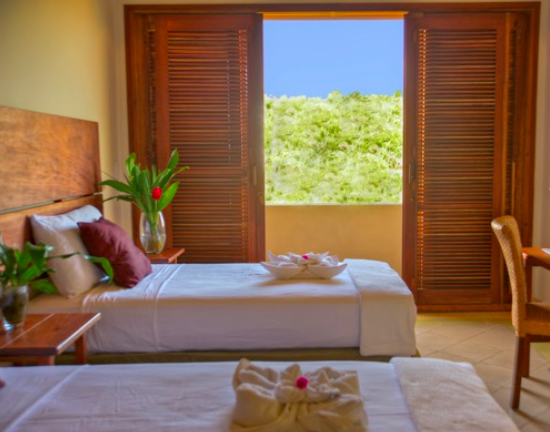 Mountain View Room with A/C. Private bath, and a king size bed or 2 twin beds. These rooms have step-out balconies and gorgeous mountain views. The rooms are tastefully furnished and provide the perfect space for 2 people. Each room has a king-size bed or two twins with a private bathroom with solar hot water.
$3800 per person single occupancy / $3150 per person double occupancy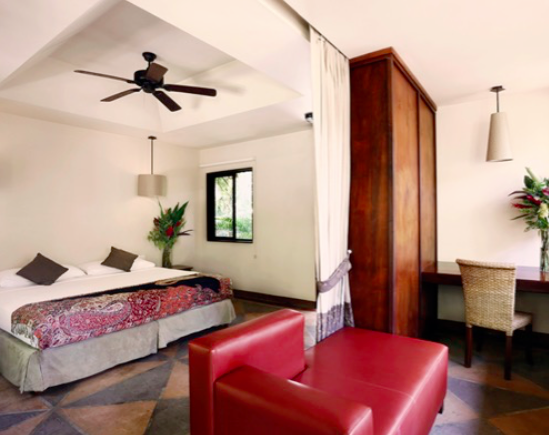 Nature Suite with A/C. The suites are very cozy and situated on a hillside overlooking the lush vegetation. They are natural wood frame structures and have private bathrooms with an outdoor shower overlooking the jungle.  Each suite sleeps two people, includes a separate enclosed porch with a desk, and has solar hot water as well as air conditioning. The suites are a short walk up the hill to the main building and give an incredibly intimate connection with the natural surroundings. You won't regret staying in a nature suite!
$3650 per person single occupancy / $3100 per person double occupancy
Hermitage Room with A/C. These rooms are specifically designed for singles and provide privacy and elegance, while being cozy and inexpensive. Many of these rooms have partial views of the ocean and others of the mountains nearby, a queen-size bed, a private bathroom with solar hot water, ceiling fan, and air conditioning.
$3175 per person single occupancy 
Pacifico cottage with A/C. The Pacifico Cottages are tucked away amidst the lush tropical gardens and close enough to the sandy Pacific beach so that the sound of the ocean will rock you to sleep.
These beautiful and rustic rooms have one queen-size bed for a single person or couple, full en suite bathroom with an outdoor shower, air conditioning, an overhead fan and feature a private porch with a hammock and a daybed, along with a safe big enough to fit a 17″ laptop.
From the main building, the Cottages are a short walk downhill a stone stairway towards the beach.
 3950 per person single 
3100 per person double 
Eco Cottage. The Eco-Cottages are a 5-minute hike away via a stone stairway from Blue Spirit's main building (reception, dining-hall, etc.) and situated in lush vegetation, allowing for a sensual being-in-touch experience with nature.
Each Eco-Cottage consists of a natural wood frame structure that houses two twin beds and a full yet compact ensuite bathroom with an ambient temperature shower.
There are screens for natural ventilation, an overhead ceiling fan, mosquito nets, electric outlet(s), and a safety box large enough to fit a 17″ laptop computer.
2825 per person single 
2495 per person double
Nestled high on a peninsula overlooking the royal blue Pacific Ocean, Blue Spirit is surrounded by gorgeous natural environment and opens up to a white sand beach that takes you to the small and charming surf and Yoga village of Playa Guiones.  Blue Spirit's ambiance is enticing including tile floors, lush gardens, infinity pool, massage huts, and open air construction providing an exceptional environment conducive for healing and renewal. Fantastic organic vegetarian cuisine with fresh, locally grown food, prepared by local chefs, trained by the expert culinary staff from Omega are enjoyed while gazing out over the mountains and ocean sipping fresh organic Costa Rican coffee.
Blue Spirit is the ideal place to meet like-minded friends or to experience solitude, and to practice, recharge, detox your body at the longevity center, revitalize, and reconnect with your most authentic self.
Practices will be designed to support you to to know your deeper most fundamental and whole nature. Sessions will guide you to explore the unbound body where you can reclaim your body.  In this way you can experience the most profound realization you can have which allows you to live in presence, wholeness and acceptance of what is right here right now. Practices are designed to help bring awareness to the loving unified ground of being that unites all things. Expect a few miracles too!
Enjoy the magic of each day with optional activities ranging from surfing, kayaking, sunset horseback riding, to zipping down the longest, most exhilarating canopy in the world!  You will make memories that will last a lifetime at Blue Spirit where the abundant jungle meets the majestic Pacific Ocean and where your 2024 transformative spiritual retreat is waiting for you.
About Karena:
Please visit www.karenavirginia.com to get to know Karena!
May you always remember how very loved you are!
Miracles Happen